Printed by https://kiel.city-map.de/city/db/020202015201/the-old-botanical-garden-in-kiel-2
The Old Botanical Garden in Kiel
The Garden

The general impression of the Old Botanical Garden is being formed by its unique stock of trees. Apart from old, lovely and valuable woody plants, the diverse herbal flora offers the whole year round new impressions of colours and forms.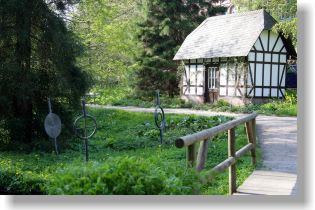 Image Copyright: Jens Thöl
In contrast to the New Botanical Garden, the location directly at the Kiel Fjord offers a special micro climate. Plants that normally wouldn't survive our hard winters like the redwood (Plan No.5) thrive and prosper here. The diverse flora offers over 40 bird species, several insects and small animals, big feed source and habitat in the middle of the city.
History and Meaning of the Garden

The garden has a long tradition as Kiel's and with that the state Schleswig-Holstein's fourth Botanical Garden. The first Botanical Garden from the year 1669 is regarded as Germany's sixth oldest. It was already created in 1825 by A.C. Brauer as an English country garden, with rolling, the surface form suited, paths. From 1878 to 1884 the ca 2,5 hectare area was turned into an Botanical Garden by A. Engler.


Image Copyright: Jens Thöl
At the moraine's highest point, at 28m, stands the pavilion with a cupola and wrought-iron crown. The lotus-ornaments, which can be seen in the crown, are the traditional sign for botanical gardens.
The pavilion represents the crowning of the garden and the cupola is regarded as the "crown of the city of Kiel". It was constructed as octagonal clinker building in 1891 and the viewing platform grants a wonderful view over the Fjord, one of Kiel's loveliest views.

The north side of the pavilion has been furnished by its builder J. Reinke, with a recess for the presentation of algae. Inside of this recess is a replica of the stony founder tablet of the third Botanical Garden from 1803.